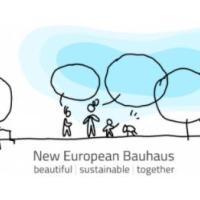 14. 3. 2022
The Technology Center of the CAS, which is the National Contact Point for the EU's Framework Program for Research and Innovation Horizon Europe, has included a new web signpost in the web portal that will provide a clear orientation on the New European Bauhaus initiative.
The news from the new Bauhaus area, open calls, a calendar of events and other important links will be published here regularly.

The New European Bauhaus is a creative initiative to link science with technology, art, culture and social inclusion, enabling the design to find solutions to everyday problems. It is an environmental, economic and cultural project aimed at transforming the places where we live. It aims to link design, aesthetics, sustainability, accessibility and inclusiveness, while contributing to the goals of the European Green Deal. In this respect, it is very closely connected with the specialization domain of the National RIS3 Strategy Cultural and Creative Sector as a tool for accelerating the socio-economic development of the Czech Republic.
The EU programs are an important source of funding for areas that are the priority for the whole of Europe. Projects must be implemented by a majority of consortia of partners from several Member States (including non-member countries), therefore a link to an individual national smart specialization strategies is not possible. Nevertheless, EU programs are another source of the support in areas that correspond to the priority regional RIS3 in a given Member State.
More information about the New European Bauhaus will be provided by Klára Černá e-mail: cerna@tc.cz.