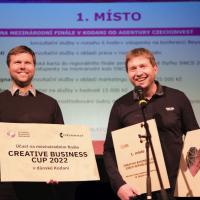 11. 3. 2022
On March 10th, 2022, the finals of the national round of the Creative Business Cup competition took place in Ostrava. It was attended by ten of Czech startups from selected areas of the cultural and creative industries. The event was organized by the CzechInvest Business and Investment Support Agency, which is a significant partner and implementer of RIS3. The cultural and creative industries are represented in RIS3 by their own domain of research and innovation specialization, because they are an important accelerator of the socio-economic development of the Czech Republic.
The finalists were AIMS (the use of artificial intelligence in music search), Beehive (beeswax design lights), Cementum (sustainable concrete using waste debris), HTDM (IoT solution for laser game), Posedla (3D production of bicycle components), Precismo (robot for 3D scanning), Sensio (cello custom printed on a 3D printer), Tanganica (easy launch of advertising on the Internet), Tangle (light effects without a computer) and Virtual Real Life (virtual reality for rehabilitation).
The performance of Czech startups was assessed by an expert jury composed of Jakub Hájek, Director of the CzechInvest Start-up and Innovative SMEs Division, founding partner of the law firm 3ADOVOKÁTI Martin Hykel, Director of the European SWCSummit Tomáš Cironis, coordinator of implementation activities within the Regional Innovation Strategy of the Moravian-Silesian Region MSIC Adéla Hradilová and the leader of the ČSOB Start It program Zuzana Paulovics.
The winner is the company Sensio, which produces custom design cellos. The idea was born during a pandemic, when one of the protagonists of the Sensio company, cellist Ondřej Kratochvíl, needed to practice at home without disturbing the sleep of his little son and neighbors. He and his friend Jan Tobolík began rehearsing cello printing on a 3D printer, and in a relatively short time came the first successes in the form of a truly revolutionary musical instrument that allows for quiet practice and full-fledged concert playing after being connected to an amplifier.
This story, futuristic design, mastery of business strategy and connection with music captivated the jury so much that Sensio won three awards! In addition to the main prize in the Creative Business Cup competition, there is also the Moravian-Silesian Innovation Center award and the Miláček audience award, which was presented by the audience in the hall and on the online broadcast.
Startup Sensio with its product MyCello will represent the Czech Republic at the global finals of the competition in Copenhagen.