The purpose of the mission "Strengthening society's resilience to security threats" is to find possible solutions to respond flexibly to developments in society and, in particular, to predict and achieve the ability to prevent extraordinary events, or after an extraordinary event to eliminate the consequences and restore the facts to their original state in a higher quality, namely through R&D&I results.
The goal of the interventions is to contribute through research, development and innovation to the acquisition and effective development of innovative knowledge, methods and technologies that enable the security system of the Czech Republic and its interested partners to face current and future risks arising from the changing security environment.
The mission of Strengthening society's resilience to security threats is divided into two sub-areas.
Stability, reliability and sustainability of social, economic and environmental systems
Reducing risks and increasing resilience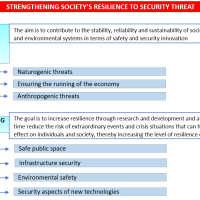 For each area, a Mission Objective Card was prepared, describing the basic parameters that must be achieved to accomplish the mission. Details about the mission and the design of the mission objective cards can be found in the document Annex 1. Background material on the mission with an explanation of the wider context is available here (in Czech language only).